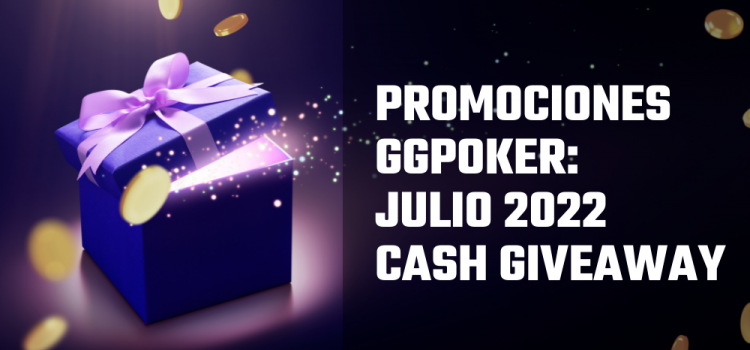 Numerous promotions are available on this month's GGPoker cash giveaway, with over $ 10,000,000 awarded in total prizes, including daily free login rewards, Leaderboards, and more.
GGPoker Welcome bonus
A staple promotion on online poker that is also offered by GGpoker. Bonus code is not necessary for this promotion, but you must make the first deposit of $ 20 or higher on the GGpoker App.
Once you do that, there are actually two possible welcome bonuses, the poker site will give you two options: either a deposit match of 100 % up to $ 600 or up to $ 100 in free tickets and Cash Game dollars (C$), aka bonus cash to be spent on GGPoker cash games and fees for multi-table tournaments. In general, the best welcome bonus is the deposit match.
GGPoker Welcome Bonus A: deposit match
If you choose this for your welcome bonus (recommended), your first deposit will be matched 100% up to $ 600 bonus cash: so if, for example, you made the first deposit of $ 600 you receive a $ 600 bonus (the maximum).
However, as in any other online poker room, the money does not go straight to your account: you first have to play and unlock your bonus. $ 1 bonus will be unlocked for every $ 5 paid in net rake and tournament fees (therefore, 20% Rakeback), which is released in $ 5 increments.
You have 90 days to unlock your total bonus. After that, any uncollected bonus will be lost, but three months is more than enough time. For most regular players, this is by far the best option, as the value you receive is bigger, so we recommend this one.
GGPoker Welcome Bonus B: $ 100 in rewards
If you choose this option, you get the following welcome package over the course of six days: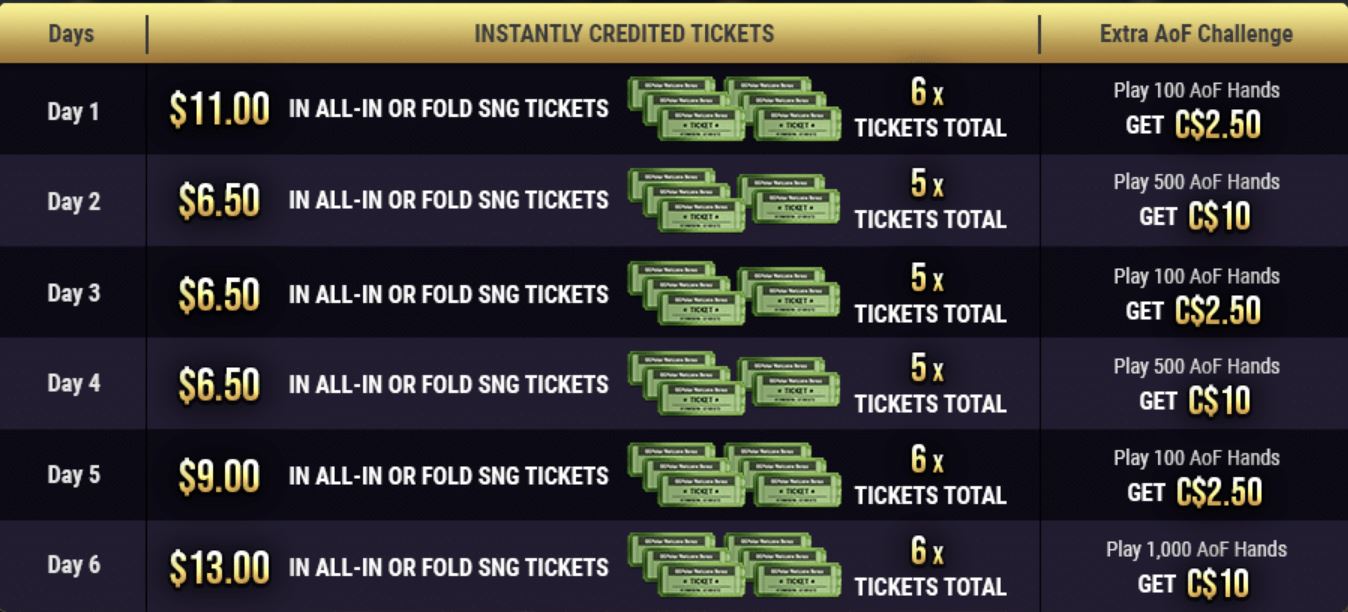 As it shows, you earn either All-in or Fold (AoF) or SnG tickets, and you can play AoF hands to collect extra rewards in the form of cash game dollars (C$). For each daily target you reach, you gain the described amount of cash game dollars, and if you hit all the six you get another C$ 10 on top.
GGPoker Cash Game Dollars Explained
There are some prizes that are paid in Cash Game Dollars (C$), such as the daily cash races and other GGPoker prizes. If you win someone else's C$, you will be paid in real money.
You must first play games in order to turn Cash game dollars into real money.
When you pay your buy-in for a cash game, you have the option of using C$ or Cash balance. C$ will be utilized first (although you can use both to pay the buy-in, for example, $ 50 from Cash Balance and C$ 50 to pay for a $ 100 buy-in). 1 USD is equal to 1 C$. When returned to the same player, bets made in C$ will also be repaid in C$. C$ has no time limit. It cannot be utilized for tournament buy-ins, only cash games or All-in or Fold.
All-in or Fold
In this online poker exclusive game, you have to decide whether to move All-In or fold on every hand with only 8 big blinds. All-In or Fold is a thrilling poker variation that is exclusive to GGPoker and is accessible for both Hold'em and Omaha. It makes things quick and easy.
Every time you go All-In, you also have a chance to win an instant cash prize in the All-In or Fold Jackpot, which heightens the excitement.
Honeymoon for Newcomers
In addition to the rewards program and welcome bonuses, GGPoker provides additional promos for new players, such as the Honeymoon for Newcomers promotion, which may be accessed for the first seven days following the creation of a GGPoker account.
In order to participate, poker players must finish a number of "missions" within a 30-day period. These missions, which involve accomplishing objectives like playing 50 hands of pot-limit Omaha or displaying your hole cards at the end of a Hold 'em hand, encourage new users to discover all the services the website has to offer.
Players receive a $ 300 reward for finishing all 30 missions within the time limit, being approx. $ 230 in cash prize and the rest in free tournament tickets.
Daily Leaderboards
GGpoker pays daily prize pools for the most popular cash games and online poker variants: Hold'em, PLO-5, Rush & Cash, AoF / SnG, Flip & Go, Battle Royale, Short Deck, and Spin & Gold. Whatever you prefer to play, you will surely find one of these daily promotions that suit you.
$ 20,000 Hold'em Leaderboard: a daily Hold'em Leaderboard with a top prize of $ 6,760
$ 20,000 PLO-5 Leaderboard: a daily PLO-5 Leaderboard with a top prize of $ 6,000
$ 20,000 Rush & Cash games Leaderboard: a daily Rush & Cash Leaderboard with a top prize of $ 5,310
$ 20,000 AoF and Sit & Go Leaderboard: daily AoF Leaderboards with top prizes of $ 8,250 (Hold'em), $ 1,490 (Omaha) and $ 720 (Sit & Go Hold'em & Omaha)
$ 5,000 Flip & Go Leaderboard: a daily Flip & Go Leaderboard with a top prize of $ 2,960
$ 1,000 Battle Royale Leaderboard: a daily Battle Royale Leaderboard with a top prize of $ 570
$ 5,000 Short Deck Leaderboard: a daily Short Deck Leaderboard with a top prize of $ 1,900
$ 20,000 Spin & Gold Leaderboard: a daily Spin & Gold Leaderboard with a top prize of $ 6,600
Please notice that all prizes are paid in GGPoker Cash Game Dollars (C$), explained above in the section of the same name.
Happy Hours
Every day from 10 pm to 11:59 pm (UTC -8) runs a Happy Hour, during which all points you gain on the Leaderboards are multiplied by x1,5.
Daily Freebie
This promotion consists of a daily login reward that needs to be manually claimed by the player in the Promo section of the GGpoker app on the "Daily Freebie" tab. After that your reward is automatic, you don't have to do anything else.
These rewards are small and come in the form of free tickets, as shown in the table below:
GGCare & GGcheer
Did you suffer a bad beat or cooler? Have you experienced a memorable victory? You always have GGCare and GGCheers on your side!
When these situations happen, you will be able to participate in a free Flipout tournament. Every game has different specifics, and they frequently alter due to various external reasons. As a result, it is impossible to list all of the unique circumstances that cause these events. However, to increase the number of trigger points, GG team of professionals constantly scans the action for any particularly fortunate or unlucky circumstances.
Verify your registration for the daily flip-out competition in the pop-up window. You will be registered automatically. Have a restful night's sleep. There will be a prize waiting for you when you awaken in the morning!
Following the conclusion of the ThanksGG Flipout tournament, rewards will be given out in C$. Results can be viewed on the PokerCraft timeline and in the My Tournaments tab.
All cash games, including Hold'em, Omaha, All-In or Fold, Rush & Cash, Spin & Gold, and Short Deck, as well as tournaments, are eligible for this promotion.
Flipout Tournaments
An automated tournament, Flipout Tournaments push every player all-in on every hand. A winner is selected in a matter of seconds. Since there are no decisions to be taken once the event begins, players do not even need to be online during it.
Every day from 00:00:00 to 23:59:59, GGCare & GGCheers are open, and the ThanksGG Flipout competition will start at 00:45:00. (UTC -8)
Depending on the amount of the pot and the severity of the situation, the starting stack will increase. If you have two or more qualifying hands, you will increase your starting stack total each time by gaining more tournament chips. In PokerCraft, you can check your GGCare & GGCheers hands in the lobby for the ThanksGG Flipout Tournament, under My Tournaments, or on the PokerCraft Timeline.
GGPoker will continuously refine the system to offer a fair Flipout to all players with various starting circumstances.
About GGPoker
GGPoker
Rakeback

60%+

Deposit bonus

$600
+ immense cashback
+ many monthly promotions
+ big traffic on all stakes
- no HUD
- lack of HU
GGPoker is one of the most famous poker rooms in the world, one of the skins of
the Asian giant GGNetwork
, together with BetKings, Natural8, and Snail Poker. GGPoker offers some of the best reward programs in the industry, such as a 100% deposit bonus and a Rakeback offer called Fish Buffet that goes up to 60% Rakeback. Tables at GGPoker are full of different types of players - including lots of passive limpers and really careless Asians.
Don't have a GGPoker Player Account yet?
If you want to enjoy excellent promotions, tournaments, or know more, we have a full article with our GGPoker review, sign-up, promotions such as Fish Buffet, Leaderboards, deposit bonus, traffic, game types, stakes, and other information. In case you are wondering if your country of origin allows you to play at GGPoker, don't hesitate to using one of the available methods.
Main advantages of our offer:
- An attractive Rakeback deal on GGPoker
- Quick and responsive customer support
- Personal advice by the DonkHunter Team of experts and GGPoker players